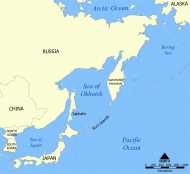 An Unlikely Hockey Hotbed: Sakhalin Island
Sakhalin is a Russian island that lays in the Pacific Ocean, just north of Japan. It's about as far east as you can get while still staying in Russian territory. With a population today of 500,000 residing on the island, Sakhalin has certainly made international headlines a couple of times over the years.
Sakhalin is a Russian island that lays in the Pacific Ocean, just north of Japan. It's about as far east as you can get while still staying in Russian territory. With a population today of 500,000 residing on the island, Sakhalin has certainly made international headlines a couple of times over the years.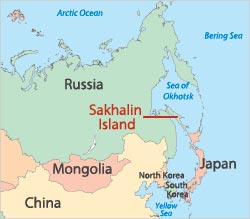 Map from Wikipedia

The island has quite the storied history as its land has been owned by both Japan and Russia at one point or another during the 19th and 20th century. The disputes over the island often led to military conflict, but Russia now owns the entire island since snatching the Japanese portion during the final days of World War II in 1945.
The largest city on Sakhalin is Yuzhno-Sakhalinsk, a solid city of roughly 180,000 people. Originally called Vladimirovka when it was founded in 1882, its named was changed to Toyohara when it was under Japanese rule from 1905 to 1945 when the Russian's took it over again and gave it its current name.
A few years ago they built the Kristall Ice Palace, an arena that seats 1,526 spectators on the outskirts of Yuzhno-Sakhalinsk. The arena plays host to the PSK Sakhalin (Sea Lions) of the Asia League Ice Hockey. The Asia League Ice Hockey is a nine team league comprising of teams in China, Japan, South Korea, and PSK Sakhalin, the one Russian team in the league.
When the arena first opened, they hosted a big exhibition game featuring the local Sakhalin team against a team of Russian legends from the past including Alexander Yakushev, Sergei Makarov, Alexander Gusev, Sergei Mylnikov and many others.
On Sakhalin Island, hockey has primarily only been an outdoor sport until a few years ago when that arena was built in Yuzhno-Sakhalinsk. Despite the tough situation for someone to progress in the sport, a couple of players over the years have made their way from the remote island and made a name for themselves in the hockey world.
***
The legend of Yevgeni Belosheikin is a tragic tale. Hailing from Nevelsk, a small town of 11,000 some 120 kilometres from Yuzhno-Sakhalinsk, Belosheikin was pegged to be the next Vladislav Tretiak from the head brass of Soviet hockey from a young age. He was even nicknamed "Yevgeni the Great" from his days as a junior.
Yevgeni began his hockey in his hometown of Nevelsk on a nearby ice pond at four years old. He started off a defensemen but later switched to goalie when him and his family moved to Leningrad at the age of ten.
Early on, Belosheikin was considered a prodigy in net. He was mentored by the great Tretiak when he was developing as a goaltender, and unlike Tretiak, he was always a very confident person. Yevgeni knew he was good and knew that if he played his game, it would likely be good enough to win his team the game.
Twice an all-star at the World Junior Championships (1984, 1986), he was also named Best Goalie at the 1986 tournament. When he joined the men's ranks, he immediately had an impact, helping the Soviet Union win gold at the 1986 World Championships.
To North Americans, Belosheikin is best known for his performance at the 1987 Canada Cup when he was the surprise starter in Game 2 of the best-of-three finals with Canada. He played valiantly but his Soviet side eventually fell 6-5 in double overtime, and then lost Game 3 after Viktor Tikhonov put the other goalie (Sergei Mylnikov) in the net.
Unfortunately, Yevgeni's life was full of tragedy and he never got to live out to his full potential between the pipes. His father died early on and he had problems with his mother. Also, after being drugged and robbed after a night of partying with a teammate, he began to suffer liver and vision problems. Later on he also suffered from alcoholism and it was something that would stick with him for the rest of his life.
Yevgeni committed suicide on November 18th 1999. He was thirty three years old.
***
Right now in the hockey world it's another Yevgeni that is carrying the torch for Sakhalin Island. Yevgeni Svechnikov, a 2015 first round pick of the Detroit Red Wings that is currently playing with the AHL's Grand Rapids Griffins was born in Yuzhno-Sakhalinsk.
Just like Belosheikin, Svechnikov and his family have also had to deal with tragedy. Something that happened a year before Yevgeni was even born.
The Svechnikov family was all living in Neftegorsk, an oil-producing settlement on the northern part of Sakhalin until May 28th 1995 when a devastating 7.6 earthquake on the Richter scale killed over 2,000 of the roughly 3,500 people that lived in Neftegorsk at the time. Among the dead were all but one of Yevgeni's grandparents.
Yevgeni's parents then moved 480 kilometres south to Yuzhno-Sakhalinsk where Yevgeni was born on October 31st 1996. He wasn't there long however as his parents decided to move when Yevgeni was still a young child to Barnaul, some 6,000 kilometres west of Sakhalin Island. Barnaul is a large city of 600,000 or so near the Russian border with Mongolia and China.
Soon after, Yevgeni's brother Andrei was born. Andrei himself is a top prospect that's likely going to be a first round pick at the 2018 NHL Entry Draft. The pair's talent was evident and their parents were convinced by coaches to move to Moscow to further develop their kids hockey skills.
From Moscow, they soon went to Ak Bars Kazan where they played for one of the top junior hockey programs in Russia. In 2014, Yevgeni came over to North America to play junior hockey with the Cape Breton Screaming Eagles of the QMJHL. A top scorer in his league, it wasn't a surprise to anyone when the Detroit Red Wings took him 19th overall at the 2015 NHL Entry Draft.
In his first season of pro hockey this year with Grand Rapids of the AHL, Yevgeni is excelling enough that now it's only a matter of time before he makes his NHL debut and Sakhalin Island has its first NHL player.
It's something that will likely be celebrated when it happens at the Kristall Ice Palace in Yuzhno-Sakhalinsk.

Czech Rep.: Tipsport extraliga | 1.liga | 2.liga

Slovakia: Tipsport Extraliga | 1.liga

Sweden: SHL | HockeyAllsvenskan
Other: EBEL | Belarus | Croatia | Denmark | Estonia | France | Great Britain | Iceland | Italy | Latvia | Lithuania | MOL-liga | Norway | Poland | Romania | Serbia | Slovenia | Spain | NHL | AHL |
League standings
Game fixtures
League leaders
From Reykjavik to Istanbul: 17 clubs are ready to battle for the trophy Read more»
Estonia could do something that they've never done ever before: have players drafted into the National Hockey League. Read more»