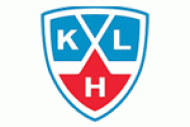 Several interesting streaks from the Western KHL conference
Do you remember the thirteen consecutive wins of Lokomotiv Yaroslavl this season? It was unbelievable and a record, but after these, Lokomotiv Yaroslavl lost five consecutive games.
Inside of these five games Lokomotov Yaroslav won only one point  when losing to Cherepovets 2-1 by shootout on November 10. At this moment Lokomotiv Yaroslavl holds the third place of the Western Conference and has 60 points. 
From the last four away games Severstal Cherepovets took only 2 points in the game against Lokomotiv Yaroslavl where Cherepovets wins after shootout 2-1. Anyway, Severstal Cherepovets continues to stay on the last position of the Western Conference and has only 35 points. Seems, the win away against Lokomotiv Yaroslavl and the win at home 4-2 against Dynamo Moscow were the two good games, no more.
Unfortunately, Vityaz Podolsk continues to lose. Yesterday, Vityaz lost away to Dinamo Minsk 3-2 and it was the fourth consecutive defeat away. On November 20 Vityaz Podolsk will play at home against Torpedo from Nizhny Novgorod. Sure, it will be a good game, because both teams want to get into the playoffs at the end of the regular season. Currently, Podolsk holds the 10 place of the Western Conference and has 43 points.
And finally, Dynamo Moscow continues to look good with an optimal combinations of players, yesterday won away against Torpedo Nizhny Novgorod 3-2 after a shootout. It was a dynamic and fantastic game, where both teams could have won. A lot of players played against his former team. For example from Dynamo Juuso Hietanen who last season was in Nizhny Novgorod and from Torpedo Nizhny Novgorod Kaspars Daugavins, Alexei Sopin, Alexander Budkin - all during last season played for Dynamo Moscow. Dynamo Moscow got the third consecutive victory and holds today the fifth place in the Western Conference.

Czech Rep.: Tipsport extraliga | 1.liga | 2.liga

Slovakia: Tipsport Extraliga | 1.liga

Sweden: SHL | HockeyAllsvenskan
Other: EBEL | Belarus | Croatia | Denmark | Estonia | France | Great Britain | Iceland | Italy | Latvia | Lithuania | MOL-liga | Norway | Poland | Romania | Serbia | Slovenia | Spain | NHL | AHL |
League standings
Game fixtures
League leaders
Canada takes gold after thrilling final against Russia. Sweden grabs bronze. Read more»