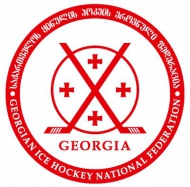 Hockey in Georgia runs up
Eurohockey.com talks with Georgian Federation Secretary, Mr. Alexander Vashakidze, to know more about domestic hockey and plans for the future
Alexander Vashakidze is not only the goalie of Georgian League current champion Ice Knights Tbilisi, but also the passionate Secretary of local Ice Hockey Federation. In this interview with Eurohockey.com, he talks about the current state of hockey in the country and the possibility to see Georgia at next IHWC Div. III in Luxembourg

Eurohockey.com: Many people in hockey world neither know that there is icehockey in Georgia, can you tell us how is the state of health of Georgian hockey and something about its history?
Alexander Vashakidze: The ice hockey family in Georgia is growing day-by-day but not as fast as we would like to. The first attempt of starting to play an ice hockey in Georgia was made in 1962 but sooner it has stopped as there was no proper ice rink built in Georgia. The second attempt was made in 80's and the result was the same – no infrastructure meant no further development. I'm not sure if this is true but the older generation often says when I ask them why there was no proper size ice rink in Georgia that the Soviet government couldn't let the Georgian play ice hockey to minimize the chance of beating Russian teams by Georgians. Although few Georgians made a history – Konstantine Bakhutashvili (from the generation of 80's was invited to play in Moscow CSKA and even played for the Youth National Team of USSR); Bessa Tsintsadze – skating and stick handling coach at Pittsburg Penguins; A third and the last attempt started in 2004 by the player of 80's – Denis Davidov, when he found the Georgian Ice Hockey Federation – first Federation of Ice Hockey after Georgia gained the independence. Denis has managed to attract more and more young players and soon, in 2007 we have launched first Championship but due to the non-standard size of the ice rink in Tbilisi we played 3 on 3. In 2009 Georgia became the member of IIHF and at the first congress for Georgia Denis (the president) and Lasha (Secretary General) has died in the car accident on the way to congress.
Eurohockey.com: In March 1962, while Georgia was still a part of the USSR, and in their first tournament ever, they beat Armenia 11-2 at the Winter Spartakiad in Sverdlovsk, Russia. Then seems hockey disappeared in the country map until 2007, it's true?
Alexander Vashakidze: Not exactly, there was another attempt in early 80's but still not for the long time – only few games. But a Georgian goalkeeper – Konstantine Bakhutashvili was invited by Moskow CSKA. The first movie on Ice hockey in Georgia was shot in Georgia. The active talks have started to build a standard size ice rink in Tbilisi but by the mid of 80's the movement towards independence of Georgia has started with massive demonstrations and no one had time to follow the construction of ice rinks. After Georgia has gained the independence, the Georgian Ice Hockey Federation was founded in 2004. First ever national championship was carried out in 2007 on smaller size ice rink – 3x3 players.
Eurohockey.com: In 2007 we noticed an ice hockey league started but after the tragic loss of Denis Davidov and Lasha Tsagareishvili (Presdient and Vice President of Georgia Federation) there was a hiatus in domestic activities until 2011-12 season. Why this?
Alexander Vashakidze: this fact has several explanations – 1. Denis and Lasha were the driving force for the Georgian Ice Hockey. By that time the federation had no institutional shape and a lot depended on personalities. Denis and Lasha has kept all the info and needed resources with them – e.g. players, equipment, contacts, etc. Denis and Lasha were almost the only trainers in the country that could work with the children. So, after they have passed away we needed some time to recover and bring things back on track. 2. In 2008 the war against Russia + Financial crisis and the only operational rink in Tbilisi was closed down that made the development impossible for clubs in Tbilisi.
Eurohockey.com: How popular is today icehockey in Georgia?
Alexander Vashakidze: I would not say that it is No 1 sport but it is not last – the newspapers and generally media coverage is good. Although many Georgian still think that Ice Hockey is little bit exotic for Georgians but we are trying to convince them that this is really Georgian sports as it needs all the skills that Georgian have and love – technique, fast, team spirit, and finally – fight.
Eurohockey.com: A curious detail is that 3 teams out of four in the league are from capital Tbilisi but the league is played in Batumi and Bakuriani, are there regular rink there? Does Tbilisi haven't a rink?
Alexander Vashakidze: Tbilisi has smaller size rink that is enough for trainings. The standard size ice rink is in Batumi with 2500 seats. But Batumi, being on far end from Tbilisi, doesn't have any human resource that will contribute to developing the Ice Hockey in this region. We are currently working to send one of our coaches to Batumi to support to the development of Ice-Hockey in this Region. Bakuriani has outdoor Ice rink and is operational only in winter months.
Eurohockey.com: National team has an Ukranian coach, Evgeny Alipov: does Federation have any plan to call coaches from abroad?
Alexander Vashakidze: Currently we are focusing to train our coaches – we are actively involved in IIHF LTP1, LTP2 trainings and coaching symposiums. Of course, when the aims will be higher then we will invite other coaches as well both for national and local clubs.

Eurohockey.com: Analizing the rosters of 4 teams there are many vetaran players and some youngs, and league top scorer Gocha Jeiranashvili is 44. Are there youth activities (leagues, training, courses) and a strategy from federation to attract young people to icehockey?
Alexander Vashakidze: I would agree that it is bit weird that the veteran player has best stats in this year's championship. Each ear more and more youth is involved in ice hockey. For some reasons we've lost certain generation but youth participation is gradually increasing and now we have many young players at their age of 12-13. With the ice rink being constantly operational in Tbilisi and supporting the regional development by the Federation the number of players will be increasing constantly.
Eurohockey.com: Last season Georgia took part in Black Sea hockey league in Turkey: how was this collaboration with Turkish Federation? It will continue? Are there other collaborations active or planned?
Alexander Vashakidze: we have had relationship with Erzurum Sports Department. This part of the Turkey is closer to Georgia than to Istanbul or Ankara, so for them it was easier to play with us. It was meant Armenia to be involved in the league but it didn't work out. In a long term perspective we plan to work with Armenia, Azerbaijan, and Turkey to create a joint league but it is not going to happen in next two years.
Eurohockey.com: Last season Georgia debuted at IHWC, but this season you aren't in IIHF calendar, why? Do you plan some international match or partecipation in international event for national team?
Alexander Vashakidze: Right, last year we've played but quite unsuccessfully as our 8 players (including two goalkeepers, and the rest were 1stand 2ndline players) were rejected by IIHF for still unclear reasons for us and we didn't have enough time to substitute them some almost all our admin staff but jerseys on, including me, to fill the team up to 18J. This year as it is stated in the minutes of congress, the group of experts will come to Georgia to see if the Batumi Ice rink meets the minimum standards and if it does than we'll be able to participate directly in the 3rdDivision in Luxemburg (last year we've played 3rddivision qualification). We pretty much hope that this examination of the ice rink will be formal as the last year we had the same ice rink and we were granted the right to participate.
Eurohockey.com: Any contact with Georgian diasphora around the world to recruit players, maybe in North america?
Alexander Vashakidze: Yes, we are having communication with the Georgians. Not many play in North America but there are quite a lot in Ukraine, Russia, Europe but due to the minimum participation standards we can't use them for the National team as they have to play in the Georgian league for two years.

Czech Rep.: Tipsport extraliga | 1.liga | 2.liga

Slovakia: Tipsport Extraliga | 1.liga

Sweden: SHL | HockeyAllsvenskan
Other: EBEL | Belarus | Croatia | Denmark | Estonia | France | Great Britain | Iceland | Italy | Latvia | Lithuania | MOL-liga | Norway | Poland | Romania | Serbia | Slovenia | Spain | NHL | AHL |
League standings
Game fixtures
League leaders
As the pandemic continues to ravage ice hockey throughout the world the Scottish Ice Hockey Association decided enough is enough. Read more»
The IIHF Council decided unanimously today to initiate another series of tournament cancellations for the 2020/21 season, following recommendations of the IIHF COVID-19 Expert Group. ... Read more»