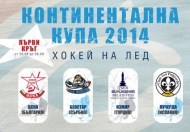 CSKA Sofia closed with perfect record Round 1 of Continental Cup Read more»
29 Sep 2014 | The outsiders are in control with new victory for Epinal, Chamonix and Strasbourg. Read more»

28 Sep 2014 | Kloten find a way out of their slump, Davos take lead in the stands and Rapperswil on a loosing streak. Read more»

28 Sep 2014 | Iserlohn comes to life with an 8-0 beating against Düsseldorf while two other underdogs keep raising eyebrows around the league. Read more»
Miroslav Ihnacak left Brasov
Less then one month after the start of MOL liga, vice-champion Corona Brasov lost its coach: Slovak Miroslav Ihnacak, 52, resigned for familiar reasons. "We decided together that it is the best decision for everyone, he decided to return home to stay with his family. I'm sorry to have to break up." said president of hockey section, Zoltan Olti-Pascal. Former coach Laszlo Kovacs will be the interim coach.
(29 Sep 2014)
Lokomotiv Yaroslavl fires coach Simpson
After 9 rounds, a record of 3-6 and an anonimous 12th placein the Western Conference standings, Lokomotiv Yaroslavl decided to fire former Switzerland coach Sean Simpson, along with his assistant Colin Muller
Anatoly Khomenko has been appointed as interim head coach.
(28 Sep 2014)
KAC fire coach four games into the season
Austrian powerhouse Klagenfurter AC fired head coach Martin Stloukal and assistant coach Gerald Ressmann just four games into the new season. The record title holder in Austrian history lost three of their opening four games, conceding a 0-9 loss to Linz at home in their last game on Thursday. That was KACs biggest loss in club history.
(27 Sep 2014)
Schedule for Spengler Cup 2014 unveiled
The 88th edition of the Spengler Cup will open with the Genève Servette agains the KHL Team Salavat Yulaef Ufa. The evening game will show case two fan favourites: HC Davos will face Team Canada. Here are the two groups and all the games:
Group Torriani: Genève Servette, Salavat Yulaef Ufa, Jokerit Helsinki
Group Cattini: HC Davos, Team Canada, Medvescak Zagreb
Friday, 26.12.2014:
G 1: Genéve Servette-Salavat Yulaef Ufa / G 2: HC Davos-Team Canada
Saturday, 27.12.2014:
G 3: Jokerit Helsinki-Looser Game 1 / G 4: Medvescak Zagreb- Looser Game 2
Sunday, 28.12.2014:
G 5: Winner Game 1-Jokerit Helsinki / G 6: Winner Game 2-Medvescak Zagreb
Monday, 29.12.2014:
G 7: 2. Group Torriani-3. Group Cattini / G 8: 2. Group Cattini-3. Group Torriani
Tuesday, 30.12.2014:
G 9: 1. Group Cattini-Winner Game 7 / G 10: 1. Group Torriani-Winner Game 8
Wednesday, 31.12.2014:
G 11: Winner Game 9-Winner Game 10
(22 Sep 2014)
Rod Hinks passed away
Former player Rod Hinks passed away last Thursday at 41 due to a suspected heart attack at his residence.Drafted to the New York Islanders in 1993, Hinks played most of his professional career in Europe, skating in Italy, Austria, Switzerland, Germany, Hungary and Great Britain. He won a title in Austria with Villach in 2001-2002 season
(22 Sep 2014)
Val Pusteria won Supercoppa
A goal by Canadian Philip Devos at 59:45 gives Val Pusteria Wolves the first trophy of the season in Italy. Wolves won Supercoppa at Collalbo Arena beating 4-3 national champion SV Renon
(20 Sep 2014)
Dunarea Galati fired coach Rauhanen
The moving of Finnish coach Kari Rauhanen from MOL vice champion Corona Brasov to Dunarea Galati of Romanian League was the shocking transfer of the summer for Romanian hockey. After three months and only two official games played in Romanian Cup (one victory one loss), Dunarea announced Rauhanen was fired without further comments
(19 Sep 2014)
World Championship to Poland
IIHF announced today that Krakow, Poland will host the 2015 IIHF Ice Hockey Division I Group A World Championship.
Ukraine was originally supposed to host the championship but withdrew due to the political situation in the country.
(18 Sep 2014)
Player of the month
Kaspars Daugavins was named European Player of the Month for March 2014.

Staff wanted
A large group of hockey fans from around world has helped build this site. We are always looking for more people that want to help out. It doesn't matter if you want to write articles, work with player stats or just want to help out with something else. If you're interested in helping us making this site even better, please contact us at
info@eurohockey.com.
Interviews
Our interviews are easiest found
here
Forums are great

Discuss your favourite team or player with other fans on one of our discussion boards!

Czech Rep.: Tipsport extraliga | 1.liga | 2.liga

Russia: KHL | Vysshaya liga

Slovakia: Tipsport Extraliga | 1.liga

Sweden: SHL | Allsvenskan
Other: NHL | AHL | EBEL | Elite A (ITA) | Magnus (FRA) | GET (NOR) | HL (DEN) | Belarus
League standings
Game fixtures
League leaders