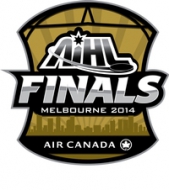 After one season Goodall Cup is back in Melbourne, but for the first time on Mustangs showcase Read more»
01 Sep 2014 | The fourth edition of the Junior Club World Cup was played last week in Ufa, Russia. And for the third time a Russian team finished on top. Read more»

31 Aug 2014 | FHR President Vladislav Tretiak visits Kyrgyzstan to reaffirm his commitment to help local hockey Read more»

30 Aug 2014 | Jokerit left the league. Vaasan Sport are the new guys. But who will compete for the title in the Finnish elite league. We take a look at the teams and what changed. Read more»
Slavutich will not participate in the Belarus Extraliga
Slavutich Smolensk won't play in Belarus Extraliga in 2014-15 season. The club, acting in Russian 3rd league, applied to join Belarus Extraliga and the Belarusian Federation accepted the proposal, but, despite a verbal agreement wih Russian Hockey Federation, the bureaucratic procedure was not successful because only the Executive Committee of the Federation has the right to allow the move, but the date of his nearest Convocation is no earlier than September 25th, after the begin of Extraliga
(02 Sep 2014)
Ertis won Kazakhstan Cup
By beating cup holder Arlan Kokshetau 4-1 in the final played in Temirtau, national champion Ertis Pavlodar won for the first time the Kazakhstan Cup. Nomad Astana captured bronze medal defeating 2-1 at overtime Beybarys Atyrau. Tournament awards were assigned to Marek Pinc (Ertis) as best goalie, Aleksei Petushkov (Arystan Temirtau) as best defender and Maxim Bogatyrenko (Berkut Karaganda) as best forward
(02 Sep 2014)
Finland wins U20 tournament in Jönköping
The Finnish U20 team won a 4-nation tournament in Jönköping, Sweden the past weekend. They started off with a 2-1 shootout win to Russia and continued with 5-1 aganist Sweden and 7-1 against Czech Republic. Sweden finished second beating the Czechs 7-2 and the Russians 2-1. Russia beat Czech Republic 7-0 to finsih third.
Finland's Jesse Puljujärvi scored 3+3 points to finish as top scorer of the tournament in Kinnarps Arena.
(01 Sep 2014)
Neman Grodno won Belarus Cup
National champion Neman Grodno won its first Belarus Cup crushing 5-0 Yunost Minsk in the final, played at Chizhovka Arena in Minsk in front of 1.900 spectators.
"Despite the score, the match was tight. The first two quick goals played a major role in our victory." said Neman captain Andrei Korshunov
"We wanted to win. Fans always remember the first place, if the result gave us the silver, it is not important" commented Yunost Anatoly Protasenya
(01 Sep 2014)
Energija Elektrénai announced new coach
Energija Elektrénai, playing in Belarusian second division,  announced Belarusian Dmitri Ovsyannikov as new headcoach. Ovsyannikov, 44, worked at HK Lida-2 last season
(31 Aug 2014)
Medvescak releases Shawn Belle
Medvescak Zagreb announces the club terminates contract with Canadian defender Shawn Belle for mediacal reasons: "Few days after his arrival appeared problems arising from an old injury. The club and player agreed that priority is to take care of his body and health. He understands that with our small budget we have to have every player be able and count on him 100%. We wish him all the best for the future and hope he will soon be at top" said Medvescak athletic director Aaron Fox. Belle, 29, signed with Medvescak from Swedish Farjestad last June
(31 Aug 2014)
Yunost and Neman for the Cup
After three consecutive years Metallurg Zhlobin won't play in Belarus Cup final. The last act, next Sunday, will see Cup holder Yunost Minsk face Extraliga champion Neman Grodno, qualified to final just for a better goal difference compared to Yunost MHL team.
(30 Aug 2014)
Ertis and Arlan will face off in Kazakhstan Cup final
The 2014 edition of Kazakhstan Cup will have the same final of last year: cup holder Arlan Kokshetau and national champion Ertis Pavlodar dueling on Sunday at Termitau Ice Arena. Teams won their respective groups, while Nomad Astana and Beybarys Atyrau will play for bronze medal. Arlan won Kazakhstan Cup in last two editions
(30 Aug 2014)
Player of the month
Kaspars Daugavins was named European Player of the Month for March 2014.

Staff wanted
A large group of hockey fans from around world has helped build this site. We are always looking for more people that want to help out. It doesn't matter if you want to write articles, work with player stats or just want to help out with something else. If you're interested in helping us making this site even better, please contact us at
info@eurohockey.com.
Interviews
Our interviews are easiest found
here
Forums are great

Discuss your favourite team or player with other fans on one of our discussion boards!

Czech Rep.: Tipsport extraliga | 1.liga | 2.liga

Russia: KHL | Vysshaya liga

Slovakia: Tipsport Extraliga | 1.liga

Sweden: SHL | Allsvenskan
Other: NHL | AHL | EBEL | Elite A (ITA) | Magnus (FRA) | GET (NOR) | HL (DEN) | Belarus
League standings
Game fixtures
League leaders