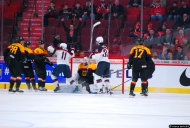 USA routed a weak Germany in the only game played today in Montreal Read more»
28 Dec 2014 | eurohockey.com took a few minutes after the game to talk to Canada's Micki Dupont who normally plays for the Kloten Flyers of the NLA. Read more»

28 Dec 2014 | In a penalty filled game, the tournament host HC Davos only needed one goal to advance to the Semi-finals. Read more»

28 Dec 2014 | In the afternoon game Geneva faced yesterdays loosing team Jokerit Helsinki who had tried hard but lost to Ufa. Read more»
Cernak suspended
Slovak defenceman Erik Cernak will be suspended one game at the World Junior Championship due to a check against the head and neck area of Finland's Mikko Rantanen.
(29 Dec 2014)
Bulgaria withdraws from the U20 Ice Hockey World Championship
The Bulgarian Ice Hockey Federation has informed IIHF that U20 team won't travel to Dunedin, New Zealand to compete at the 2015 Under-20 Ice Hockey World Championship - Division III.
This means that the tournament will have 5 teams instead of 6. The number of games will be reduced from 15 to 10. New Zealand, China, Mexico, South Africa and Turkey are the participants
The tournament will now start a day later on Tuesday January 20th, 2015.
(28 Dec 2014)
Arlan Kokshetau fined
The Kazakh Federation has fined Arlan Kokshetau 250,000 tenge due to the comments made by head coach Surenkin following their 22.12 match with Gornyak Rudny. Kokshetau won the match 2:1 but Surenkin was still unhappy with the officials.
(25 Dec 2014)
Marco Maurer plays Spengler Cup with Jokerit
HC Lugano announced defender Marco Maurer will play Spengler Cup on loan to Jokerit Helsinki. Maurer played Spengler also in 2012 edition with Adler Mannheim (on loan from Rapperswil, his club at that time)
(23 Dec 2014)
Pre-WJC games
Four pre-competition games with the U20 national teams preparing for the World Juniors in Toronto and Montreal were played last night. Canada-Sweden 5-2, Slovakia-Switzerland 3-2, Germany-USA 2-5 and Finland-Russia 3-2(PS).
The World Juniors start on Friday. Follow it with Eurohockey.com at http://eurohockey.com/league/878-wjc.html.
(22 Dec 2014)
Corona Brasov wins Romania Cup
With a comeback from 0-2 after first period, Corona Brasov won 2015 edition of Romania Cup, beating 3-2 arch rival SC Miercurea Ciuc in front of 2000 fans at home rink. In september Miercurea Ciuc won 2014 edition, beating 2-1 Brasov at overtime
(21 Dec 2014)
Dmitri Yakushin new coach at Brest
Brest finally found a replacement for coach Aleksandr Gavrilenok, fired in mid-november: it's Ukranian Dmitri Yakushin, two seasons ago on Dynamo Kharkiv bench
(20 Dec 2014)
Croatia promoted
The Croatian U20 team beat Spain 3-2 in the last game of the World Juniors Division 2B to win promotion.
(19 Dec 2014)
Hockey competitive odds
It's not surprising that many athletes love gambling. Most of them are risk-lovers and they go all over the place in search of that adrenaline and competitive high that makes you feel alive. All new popular sport betting bookmaker Betway offers the most competitive odds on the market and also gives you the chance to test yourself on card games. Placing bets with Betway has never been easier. Check out what the current online betting odds are and start the fun.
Staff wanted
A large group of hockey fans from around world has helped build this site. We are always looking for more people that want to help out. It doesn't matter if you want to write articles, work with player stats or just want to help out with something else. If you're interested in helping us making this site even better, please contact us at
info@eurohockey.com.
Interviews
Our interviews are easiest found
here
Forums are great

Discuss your favourite team or player with other fans on one of our discussion boards!

Czech Rep.: Tipsport extraliga | 1.liga | 2.liga

Russia: KHL | Vysshaya liga

Slovakia: Tipsport Extraliga | 1.liga

Sweden: SHL | Allsvenskan
Other: NHL | AHL | EBEL | Elite A (ITA) | Magnus (FRA) | GET (NOR) | HL (DEN) | Belarus
League standings
Game fixtures
League leaders