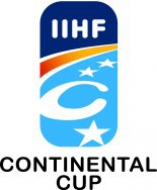 Ertis Pavlodar, Fischown Penguins as winners of group D and Ducs D'Angers and Neman Grodno as winners of group E make it to the final tournament of IIHF Continental Cup Read more»
23 Nov 2014 | TPS Turku has started to move up in the standings. The reason is to be found in a strong defense. In the top game on Saturday JYP was able to pick up 2 points in Oulu. Read more»

22 Nov 2014 | Herzog was the hero at Bern; Biel stop's Fribourg pace; Genève get's three points at Lausanne; Read more»

21 Nov 2014 | After another Leksand win the team almost caught up with the others after a horrible start of SHL. Read more»
Two hockey legends pass away
Today sad news arrived about the death of two coaching legends.
This morning it was announced that former longtime head coach of the Soviet national team and CSKA Moscow, Viktor Tikhonov, passed away in a hospital in Moscow early Monday after a long illness. Tikhonov led the Soviet Union to Olympic Gold in 1984, 1988 and 1992, to 8 World Championships between 1978 and 1990 and a Canada Cup win. With CSKA Moscow he won 13 Soviet league titles and 13 European championships between 1977-1990. He is a member of both the IIHF Hall of Fame and the Russian Hall of Fame.
Later today the NHL informed about the death of Canadian Pat Quinn who had died on Sunday at age 71 after a long illness in Vancouver. The former long time NHL player had his biggest success behind the bench as head coach of the gold winning 2002 Olympic team of Canada. He also won the 2004 World Cup of Hockey, and the U18 and U20 gold medals at World Championships with his native country.
(24 Nov 2014)
Straubing and head coach Wilson part ways
On Saturday German club Straubing Tigers, last in the DEL standings with a large deficit towards the pre-playoff spots, decided to fire their head coach Rob Wilson. The 46 year old born Canadian who represented Great Britain on the international level only arrived this summer in Germany after four years in Italy, winning the Italian championship with Renon in 2014 as the highlight. Straubing had only won 3 of their first 21 regular season games.
(23 Nov 2014)
Five clubs interested in promotion in NLB
Five clubs of NLB have submitted the application to play in the NLA in case of on promotion this season: HC La Chaux-de-Fonds, HC Visp SC Langnau Tigers, HC Olten and SC Langenthal Olten.
These clubs will play the promotion/relegation series against last club of NLA as winner of NLB
(19 Nov 2014)
Schwenninger Wild Wings fire coach Mair
After two and a half years Stefan Mair was fired from his post of headcoach at Schwenninger Wild Wings
"It was a really difficult decision, because we have learned to appreciate the work of Stefan Mair in the last almost two and a half years. He has always worked very meticulous and committed, but the last series of eight defeats in a row have matured our decision to set a new impulse to "shake" the team" said in a short statement the Manager Thomas Burger.
Arrived in 2012/13 season, Italian Stefan Mair led Schwenningen to Bundesliga (now DEL2) finals, earning the promotion to German elite league last season.
Sports manager Alexander Hunter and assistant coach Dave Chambers will coach the team until a new coach will be find
(18 Nov 2014)
Crvena Zvedza - Partizan game declared invalid
The Serbian League match Crvena Zvezda - Partizan played on October 26th was declared friendly, both by teams and Competition Director, since it was played at the very begining of the season with Crvena Zvezda had only couple of days on the ice back then. The stats and the 3 points earned by Partizan, that won the game 82, were cancelled since the it was never registered by the Competition Director.
(18 Nov 2014)
Ludek Bukac new coach at Egna
Egna/Neumarkt announces Czech Ludek Bukac, 47, as new headcoach, replacing fired Mike Flanagan. Bukac, recently lead Czech Republic at WJC U18, is back in Egna where he coached team for a couple of seasons at the begin of the century.
(17 Nov 2014)
HK Brest fired coach
Due to the poor performances of the team - 13 points after 23 rounds - Aleksandr Gavrilenok was fired as head coach of HK Brest removed from his position. Assistant coach Aleksandr Ivanenko was named interim coach
(17 Nov 2014)
Former Hungarian international Attila Rajz passed away during a game
Hungarian hockey mourns the sudden death of former international Attila Rajz, passed away while was playing a game of OB-III, an amateur league in Hungary. Raiz, 38, retired from professional hockey in 2010 after almost 300 games in Hungarian League/MOL Liga with Alba Volan Székesfehérvár and Ferencvaros and two titles (2007-08 and 2008-09). He played also 43 games for Hungary.
According to jegkorongblog.hu Rajz played the first period and was in the locker room, because he felt bad. Then sat on the team bench, where they became ill shortly before the end of the match. Despite every attempt, doctors were not able to save his life
(16 Nov 2014)
Player of the month
Pekka Rinne was named European Player of the Month for April/May 2014.

Staff wanted
A large group of hockey fans from around world has helped build this site. We are always looking for more people that want to help out. It doesn't matter if you want to write articles, work with player stats or just want to help out with something else. If you're interested in helping us making this site even better, please contact us at
info@eurohockey.com.
Interviews
Our interviews are easiest found
here
Forums are great

Discuss your favourite team or player with other fans on one of our discussion boards!

Czech Rep.: Tipsport extraliga | 1.liga | 2.liga

Russia: KHL | Vysshaya liga

Slovakia: Tipsport Extraliga | 1.liga

Sweden: SHL | Allsvenskan
Other: NHL | AHL | EBEL | Elite A (ITA) | Magnus (FRA) | GET (NOR) | HL (DEN) | Belarus
League standings
Game fixtures
League leaders