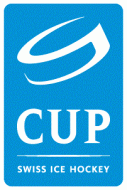 As expected, none of the lower seeded teams were able to keep the win at home in the first round. Read more»
02 Oct 2014 | Three games were played in SHL Wednesday night. Leksand suffered another loss. Now their losing streak is seven games. Read more»

01 Oct 2014 | As expected Biel gets it easy. Read more»

01 Oct 2014 | After disappearing for 42 years, the Swiss Hockey Cup celebrates it's comeback. Read more»
Andrew Petrie new coach at Newcastle
British Andrew Petrie is the new coach of Newcastle North Stars, replacing Garry Doré that will remain in North Stars organization as General Manager. Petrie coached Sydney Ice Dogs last season
(02 Oct 2014)
Peter Mikula leaves Oswiecim
"Maintaining coach Mikula was a priority for us" said the president of Unia Oswiecim Artur Januszyk last April signing a contract extension for Slovak coach. Yesterday with a short statement mr. Januszyk simply announced: "Peter Mikula is no longer coach of the club per mutual agreement.Thus, we begin the search for a new coach." Mikula arrived in Oswiecim last season replacing Evgeny Lebedev after the 2012-13 title with Zvolen, leading Unia at semifinals
(02 Oct 2014)
Rauno Parras new President of Estonian Federation
Rauno Parras, 41, was elected the new President of Estonian Hockey Federation during the general meeting held in Tallinn. For the first time a former player takes this charge. Retired after 2012-13 season, Parras previously worked as commercial director at Estonian Air. Another player, Veiko Süvaoja, entered in the Board. Former President Jaan Melder will continue to work in the Federation Board along with Oleg Litvyakov, Vahur Glaase, Urmas Kuusk and Aivar Riisalu.
(01 Oct 2014)
Jozef Zavadil resigned from Zilina
Citing health reasons, Czech coach Jozef Zavadil asked to terminate contract with Zilina after eight games. Zavadil arrived in Zilina last July
(30 Sep 2014)
Dukla Trencin retired Oto Hascak's jersey
During a ceremony last sunday, Dukla Trencin retired jersey #10 in honor of Oto Hascak. The 50-years-old native of Martin played 326 games with Dukla, starting and closing career with Trencin. Drafted by Boston Bruins in 1989, he played the entire career in Europe, in Sweden, Germany, Czech Republic and Finland, winning a title with Vsetin and two bronze medal at World Championship with Czechoslovakia. Hascak currently works as European scout for New York Rangers
(30 Sep 2014)
Ferencvaros sacked coaching duo
Another MOL Liga team decided to replace coach: after Brasov, also Ferencvaros announced the club sacked Swedish coach Håkan Nygren and his assistant Tamas Dobos after the last game, lost 3-5 against Ujpest. Last season the duo had the same function with the roles reversed, with Dobos as head coach and Nygren as assistant.Nygren was also Technical Director.
Youth team coach Ferenc Szakács has been named the interim head coach with former player György Orbán as assistant.
(30 Sep 2014)
Miroslav Ihnacak left Brasov
Less then one month after the start of MOL liga, vice-champion Corona Brasov lost its coach: Slovak Miroslav Ihnacak, 52, resigned for familiar reasons. "We decided together that it is the best decision for everyone, he decided to return home to stay with his family. I'm sorry to have to break up." said president of hockey section, Zoltan Olti-Pascal. Former coach Laszlo Kovacs will be the interim coach.
(29 Sep 2014)
Lokomotiv Yaroslavl fires coach Simpson
After 9 rounds, a record of 3-6 and an anonimous 12th placein the Western Conference standings, Lokomotiv Yaroslavl decided to fire former Switzerland coach Sean Simpson, along with his assistant Colin Muller
Anatoly Khomenko has been appointed as interim head coach.
(28 Sep 2014)
Player of the month
Kaspars Daugavins was named European Player of the Month for March 2014.

Staff wanted
A large group of hockey fans from around world has helped build this site. We are always looking for more people that want to help out. It doesn't matter if you want to write articles, work with player stats or just want to help out with something else. If you're interested in helping us making this site even better, please contact us at
info@eurohockey.com.
Interviews
Our interviews are easiest found
here
Forums are great

Discuss your favourite team or player with other fans on one of our discussion boards!

Czech Rep.: Tipsport extraliga | 1.liga | 2.liga

Russia: KHL | Vysshaya liga

Slovakia: Tipsport Extraliga | 1.liga

Sweden: SHL | Allsvenskan
Other: NHL | AHL | EBEL | Elite A (ITA) | Magnus (FRA) | GET (NOR) | HL (DEN) | Belarus
League standings
Game fixtures
League leaders