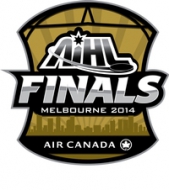 After one season Goodall Cup is back in Melbourne, but for the first time on Mustangs showcase Read more»
31 Aug 2014 | FHR President Vladislav Tretiak visits Kyrgyzstan to reaffirm his commitment to help local hockey Read more»

30 Aug 2014 | Jokerit left the league. Vaasan Sport are the new guys. But who will compete for the title in the Finnish elite league. We take a look at the teams and what changed. Read more»

28 Aug 2014 | South Korea might not have a spot at the 2018 Olympics at home Read more»
Neman Grodno won Belarus Cup
National champion Neman Grodno won its first Belarus Cup crushing 5-0 Yunost Minsk in the final, played at Chizhovka Arena in Minsk in front of 1.900 spectators.
"Despite the score, the match was tight. The first two quick goals played a major role in our victory." said Neman captain Andrei Korshunov
"We wanted to win. Fans always remember the first place, if the result gave us the silver, it is not important" commented Yunost Anatoly Protasenya
(01 Sep 2014)
Energija Elektrénai announced new coach
Energija Elektrénai, playing in Belarusian second division,  announced Belarusian Dmitri Ovsyannikov as new headcoach. Ovsyannikov, 44, worked at HK Lida-2 last season
(31 Aug 2014)
Medvescak releases Shawn Belle
Medvescak Zagreb announces the club terminates contract with Canadian defender Shawn Belle for mediacal reasons: "Few days after his arrival appeared problems arising from an old injury. The club and player agreed that priority is to take care of his body and health. He understands that with our small budget we have to have every player be able and count on him 100%. We wish him all the best for the future and hope he will soon be at top" said Medvescak athletic director Aaron Fox. Belle, 29, signed with Medvescak from Swedish Farjestad last June
(31 Aug 2014)
Yunost and Neman for the Cup
After three consecutive years Metallurg Zhlobin won't play in Belarus Cup final. The last act, next Sunday, will see Cup holder Yunost Minsk face Extraliga champion Neman Grodno, qualified to final just for a better goal difference compared to Yunost MHL team.
(30 Aug 2014)
Ertis and Arlan will face off in Kazakhstan Cup final
The 2014 edition of Kazakhstan Cup will have the same final of last year: cup holder Arlan Kokshetau and national champion Ertis Pavlodar dueling on Sunday at Termitau Ice Arena. Teams won their respective groups, while Nomad Astana and Beybarys Atyrau will play for bronze medal. Arlan won Kazakhstan Cup in last two editions
(30 Aug 2014)
GKS Katowice and Krynica approved
Polish Federation Commission on Licensing approved - even after the deadline - the applications of GKS Katowice to play in Polska Hokej Liga and Krynica for the 2nd League. Krynica also received a license for women team.
(29 Aug 2014)
Angers won Jacques Lacarrière trophy
after losing the playoffs finals last season, Angers took its revenge on Briançon winning the Match of Champions (Jacques Lacarrière Trophy), the trophy which opens the season in France between the Ligue Magnus champion and the winner of Cup of France. Angers won 4-1 (1-0, 0-0,3-1) at home in front of 1100 spectators. Goals were scored by Yannick Tifu,Tim Crowder, Guillaume Lefebvre and Brian Henderson for Angers and Marc-Andre Bernier for Briançon.
Angers goalie Alexis Neau was named MVP.
(29 Aug 2014)
Creation of Polish-Slovak team postponed
According to portal hokej.net, the Polish-Slovak project to enter a joint team called HC Jackals Poland into Russian Junior League MHL, has been postponed to next year.
(28 Aug 2014)
Player of the month
Kaspars Daugavins was named European Player of the Month for March 2014.

Staff wanted
A large group of hockey fans from around world has helped build this site. We are always looking for more people that want to help out. It doesn't matter if you want to write articles, work with player stats or just want to help out with something else. If you're interested in helping us making this site even better, please contact us at
info@eurohockey.com.
Interviews
Our interviews are easiest found
here
Forums are great

Discuss your favourite team or player with other fans on one of our discussion boards!

Czech Rep.: Tipsport extraliga | 1.liga | 2.liga

Russia: KHL | Vysshaya liga

Slovakia: Tipsport Extraliga | 1.liga

Sweden: SHL | Allsvenskan
Other: NHL | AHL | EBEL | Elite A (ITA) | Magnus (FRA) | GET (NOR) | HL (DEN) | Belarus
League standings
Game fixtures
League leaders