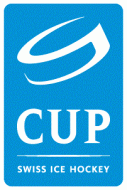 EHC Visp beat HC Davos in 2nd round of Cup and advance to quarterfinals. Read more»
27 Oct 2014 | Today Swedish head coach Pär Mårts named the preliminary roster for Karjala Tournament November 6-9. Read more»

26 Oct 2014 | For the Deutschland Cup which takes place from 7.-9. November, the new Swiss head coach has nominated 9 rookies to the 25 player squad. Read more»

25 Oct 2014 | Biel put up a fight against Lugano; Davos falls at Lausanne; Fribourg wakes up; Read more»
Kazzinc Torpedo temporarily replaces headcoach
Assistant coach Igor Dorokhin was named Kazzinc Torpedo Ust Kamenogorsk interim headcoach to replace Nikolai Myshagin after he suffered a suspected pre-stroke when team arrived in Krasnodar to play against local Kuban. Myshagin was taken to the Regional Clinical Hospital of Krasnodar: there is no danger to life. The coach will remain under medical supervision for the next 7-8 days. It is also necessary to clarify the diagnosis and the possibility of adjusting the treatment.
(31 Oct 2014)
Arystan Temirtau in financial crisis
Arystan Temirtau has informed their players and the league that the club will not be making the trip to Kokshetau to take on Arlan on 2-3.November due to their financial situation. The clubs players will stay with the club for the moment and keep training should the situation change, however, if nothing does in the next week, the club will be disbanded.
(30 Oct 2014)
Sary Arka, Ariada and Sputnik change coach
Movements on the benches of the VHL:
Russian coach Alexei Fetisov resigned from his post at Sary Arka at his own request. Assistant Leonids Tambijevs was named new head coach. Sary Arka is the reigning champion of VHL and currently 7th in the standing.
Ivan Tsarev replaced Igor Zilinsky at Ariada Volzhsk after nine consecutive defeats.
Former Neftekhimik Nizhnekamsk coach Vladimir Golubovich is the new coach of Sputnik Nizhny Tagil replacing Evgeny Galkin
(29 Oct 2014)
Luca Cereda named in Switzerland U20 coaching staff
Luca Cereda is the new assistant of coach John Fust at Swizerland U20 team. Cereda replaces Gerd Zenhäusern, who was recently appointed head coach of HC Fribourg-Gotteron. After his retirement, Cereda works as assistant coach at Switzerland U18 and as head coach of Ambri Piotta Elite Junior A team
(23 Oct 2014)
Nikolishin to coach Traktor
As rumoured, Andrei Nikolishin was named new coach at Traktor Chelyabinsk, replacing fired Karri Kivi.
Anwar Gatiyatulin Vladimir Tsyplakov and Fredrik Mikko also entered in the coachinf staff
(23 Oct 2014)
Gomel announces new coach
Former Dinamo Minsk Alexander Andrievski is the new coach of Gomel, replacing Valeri Voronin resigned at the beginning of October
(23 Oct 2014)
Traktor fires coach
Today 2-3 defeat against Dinamo Minsk, the eighth in the league, means the end of the adventure on Traktor Chelyabinsk bench for Karri Kivi. Finnish coach was fired at the end of the game. Rumours indicate Andrei Nikolishin as new coach
(22 Oct 2014)
Frank González new President of Spanish Ice Sports Federation
Former player Frank Gonzalez, IIHF Council Member, was elected new President of Spanish Ice Sports Federation (FEDH), where he was the Vice President and the responsible for ice hockey.
"Now I have the satisfaction to be the second president of the FEDH (after María Teresa Samaranch), although at the time to address the Assembly I was really excited and almost could not even talk, but now it's already time to work" said Gonzalez after the election. Two hockey players, national team captain Salva Barnola (CG Puigcerdà) and Guillermo Betrán (CH Jaca), were named in the Commission of Deputies
(22 Oct 2014)
Player of the month
Pekka Rinne was named European Player of the Month for April/May 2014.

Staff wanted
A large group of hockey fans from around world has helped build this site. We are always looking for more people that want to help out. It doesn't matter if you want to write articles, work with player stats or just want to help out with something else. If you're interested in helping us making this site even better, please contact us at
info@eurohockey.com.
Interviews
Our interviews are easiest found
here
Forums are great

Discuss your favourite team or player with other fans on one of our discussion boards!

Czech Rep.: Tipsport extraliga | 1.liga | 2.liga

Russia: KHL | Vysshaya liga

Slovakia: Tipsport Extraliga | 1.liga

Sweden: SHL | Allsvenskan
Other: NHL | AHL | EBEL | Elite A (ITA) | Magnus (FRA) | GET (NOR) | HL (DEN) | Belarus
League standings
Game fixtures
League leaders